Woooohoooo!!
I know that yesterday I promised not to get publicly psyched about conditions anymore. But since the lineup was completely empty this morning at a random beach somewhere in California I'll let out a little woot woot and just linguistically bask in the afterglow of the high-performance succulence on offer. Bigger and burlier than yesterday. Angry, spitting turbo barrels. My all-time favorite conditions. Not huge.. but barrelling and rifling on inside bars. Ledging, suckout drops. Waves that fucking whip your ass down the line like you're being hurled out the end of a jai-alai cesta at mach googleplex. FAST!!! Adrenaline drops. I managed a few rides and a few drops that are instilling me with this feeling of comforted relaxation and uplifting after-the-fact-excitement. Just a warmth and exhilaration in the pit of my stomach. One ride right in front of Lerm I kind-of faded deep into the building wall on my takeoff and then pounced smoothly to my feet with balance (something that doesn't happen all the time!). I got slingshot down the face and then came off the bottom with so much speed that my eyeballs were sucked back against my brain and my cheeks were all flapping in the wind. I pumped and set up my line for a few moments and then rode up to the lip and moderately clicked off the top… no time for laying a rail because this wave was not waiting for that type-of shit.. i re-entered and then just started pumping like a rabid hyena and then flew up to the lip again and kinda chinked a nice divot off the chunky thing… then an air-droppy re-entry and more down-the line speed channeling.. Going so fast. Damn! Seriously one of my best rides of all time. Fucking fast as all hell. Not that I surfed it that great.. just that the wave expressed such concentrated power and force. To spend a few seconds in the pocket of all that significance, just to stand there and be moved along by that serendipitous conglomeration of natural occurrences felt amazing. Blah!! Then later in the sesh the waves were really walling up and bigger sets were coming through.. Some reaching overhead++. I had my mojo working for once and I dropped a few bombs (for me!) that will stick in my mind all week as I chill in Philly, far away from the wonderful Pacific Ocean. To balance all this claiming out let it also be known that i got farking crunched 3 times trying to take-off deep into barrelling/maybe-closeout waves. One wipeout the lip came down on my head and i got pummelled chin first into my board. Butt.. on one of the good ones I just remember stroking in and seeing the large wall divot out from underneath, scooping and hollowing, gulping and pitching. Looking down the line into what is *almost* a closeout section.. but lining up just enough to allow the crafty surfer to maniacally sprint toward freedom. I just threw myself over the ledge, hugged tight along the wall, and accelerated down and to the right, staying low and riding my inside edge. Not even pumping but just riding the raw natural force of the wave. No need for pumping. I remember the view of the overhead, mega-glassy wall encompass the entire right side of my field of vision. Just a vertical wall of liquid beauty. That feeling of acceleration and drive. No sound. No memory. Only nowness. All senses fully attuned to the current moment. Rushing and reacting. Flying from danger while self-expressing down the line. I love it. surfing friggin rules!
macho man randy savage!!
in all fairness today was not a day for beginners at OB. When you see barrels happening and you're not confident in your abilities... head south to Lindy or north to Bolinas.
have a great week all you heads! give thanks for what you have! enjoy yourselves.
jai-alai dude with cesta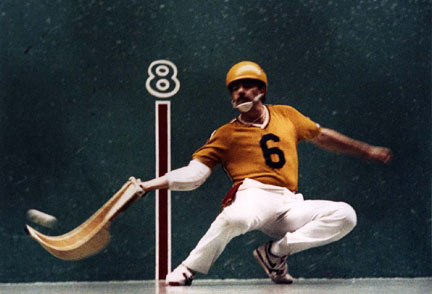 commitment

thwack!

Duuudge!

pitted

yeah

fuck yeah

Posted by Ethan at
10:26 AM