show reviews
Ned Rothenberg with Paul Dresher and Fred Frith at the ODC theater
- This show blew me away last weekend. Jacob Fred Jazz Odyssey were playing at Cafe Du Nord on the same night so it was a tough choice, but whenever Fred Frith is involved, you really can't go wrong. The ODC is a comfortable little theater in the mission. It has that independent/hipster/cooperative feel to it. 6 of us all piled in at the last minute but we got seats no problem. The show opened with Ned Rothenberg on a bass clarinet. The room was silent and the acoustics were fantastic. He began with a brooding, eery, off-kilter melody. Very slow and deliberate. His improvisation slowly grew more and more intense. He started to lay down this Indian-like drone using circular breathing to maintain a constant tone. I'd never really heard a non-didgeridoo player use circular breathing but Ned Rothenberg used it to great effect and continued to use it throughout the evening. As his solo improvisation continued, he began hitting all these weird harmonics and overtones that sounded a bit like some of the squeaky noises of late-period Coltrane or Zorn. But where Coltrane or Zorn squeaked and squawked often for emotional emphasis, Rothenberg would somehow coax these unusual overtones out of the squeaks. he would basically have the low level drone going, then pick and meander through a melody of squawky harmonics. really cool.
Rothenberg at another show

Anyway.. then Fred Frith came out for a duet with Rothenberg. Holy shit Fred Frith is the farking Man!! damn. Irrational, ground breaking, innovative uses of the guitar all over the place. Stick a drumstick between the strings and the neck, then pick little melodies on either side of the drumstick. Play melodies by plucking open strings and then twiddling the tuning machines. Laying the guitar on his lap and playing it with paint brushes. Placing a metal bowl on the strings and hitting the bowl with various instruments. Vibrating the bowl with a violin bow. Wicked, rapid-fire fingertapping mayhem. Barefoot, masterful double-volume pedal manipulation. Rhythmic, percussive, strange, soaring melodies. Weird, twisted looping on loops on loops. I actually talked to Fred after the show and asked him about his gear. I'd always been curious about this black box that is fastened centimeters above his first fret. It turns out that it's another humbucking pickup. Facing down, right above his first fret. It allows for super-sensitive fretwork.
Fred Frith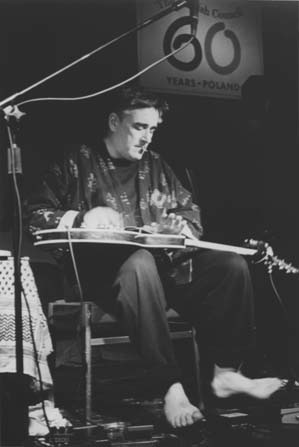 You can see the upside-down pickup on the first fret in this photo

Sooo... then Paul Dresher came out and began playing a large, homemade instrument. It was about 20 feet long. made of metal and wood. It was basically a gigantic, oversized lap-steel guitar-type-thing. He played it using a cello bow, but also used a metal ball which he rolled along, and various other objects that he picked and plucked with. The first few feet of the instrument had a homemade fretboard underneath, but the rest were just the four strings floating in the air. He ran the signal through various boomerang echo and loop devices and generally created a lot of deep, bass-heavy drones over which Frith and Rothenberg improvised. It was fucking tripppy!
this is Paul Dresher with a prototype of the instrument he played last week. This one is about a third of the size.

Then i saw Buckethead on Saturday night at the Great American Music Hall.
This band wasn't as good as his band with Brain on drums, so a bit of a letdown in the bass/drums department. but the Bucket did not disappoint as he laid down hours and hours of blistering, tech-heavy, metal dirges interspersed with light, flighty, elegant retreats. The Bucket has insane guitar chops and is truly a guitar player's guitar player. A bit like Joe Satriani on acid, or Steve Vai without the cheese and with more METAL! There were a group of folks near me who were seriously having the best time of all time. This one guy in particular danced like a sweaty, deliriously happy madman THE WHOLE SHOW! He was smiling and raising both arms in the air in triumphant gesticulations with each of Buckethead's earth-shattering voyages. The three dudes were hugging each other and slap-happily jumping into the mosh pit and rolling around on the floor and just going hyper-ape-shit. It was awesome. If i had to guess i'd say a few licks of LSD mixed with copious amounts of alcohol for that crew. They brought great energy though, and kept the vibe high.
Fernando de Noronha photos

Posted by Ethan at
08:58 AM